Billy Cocchia, 1950 – 2015
[vc_row][vc_column width="1/2″][vc_column_text]Cocchia, William Daryl, 64 of Phoenix, AZ passed away on June 19, 2015. Billy fell in love with baseball at an early age and played at Cal State Fullerton in 1972 for the legendary Augie Garrido. Also, in 1972 he met and married the love of his life, Jane Cocchia, his wife for 43 years. Billy played semi-pro ball from 1972-85. He moved to Phoenix in 1985 and started his own delivery business. Billy began his Men's Senior Baseball League (MSBL) career in 1988, that same year he won his first World Series, and was named MVP. Billy went on to play for 35 championship teams and was inducted into the MSBL Hall of Fame in 2014, and is the first recipient of the annual NABA Billy Cocchia Integrity Award. Billy exhibited courage and dignity in the face of death, never complaining about the disease that ultimately took his life. Just as on the baseball field, Billy battled right down to the final out, and was an inspiration to everyone who knew him. He is survived by his mother Mary Cocchia, his wife Jan Cocchia, children Tim, Jenni, Christy, Andy, and Tony, grandchildren, Gianna, Summit, Tatum, Elijah, Charlie, Banyan, Parker, Lucas, Jackie, and Lexi, siblings, Bob, Shirley, Linda, Randy, Chuck and Sharon. He was preceded in death by his father George Cocchia. Memorial services will be held on Friday, June 26, 2015 8:00 a.m. at Tempe Diablo Stadium, 2200 West Alameda Drive, Tempe, AZ 85282. All who knew him are welcome to attend.
In lieu of flowers the family would be grateful for donations to the Billy Cocchia Memorial Fund to assist with the cost of the memorial and final expenses.
http://www.youcaring.com/search/go?w=BILL+COCCHIA[/vc_column_text][/vc_column][vc_column width="1/2″][vc_column_text]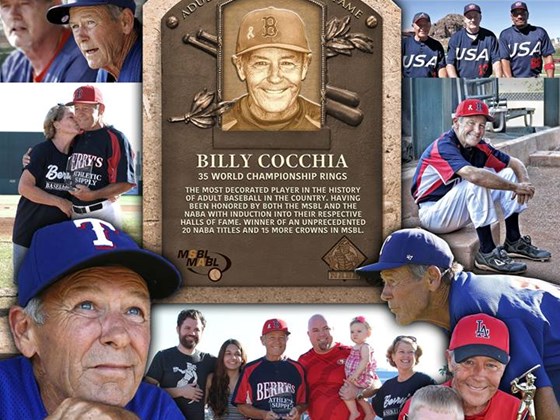 [/vc_column_text][/vc_column][/vc_row][vc_row][vc_column width="1/1″][dt_gap height="40″][vc_column_text]
[/vc_column_text][/vc_column][/vc_row]